NoseFrida Nasal Spray (Natural Sea Salt Saline Solution)
NoseFrida Nasal Spray is the all-natural nasal mist that softens stubborn boogies for seamless snotsucking. Our natural, simple saline mist has only two ingredients – sea salt and water- that's all. The gentle formulation moisturizes nasal passages allowing for seamless snotsucking when used with the NoseFrida Nasal Aspirator (a.k.a The SnotSucker). Our small applicator tip is specially designed with small noses in mind. Go ahead and spray away – use as often as needed without any harmful side effects.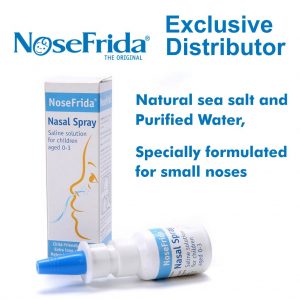 Why You'll LOVE it:
– TWO INGREDIENT SALINE – Natural Sea Salt and water formula. No alcohol, medicine or other additives.
– SAFE FOR ALL AGES – No side effects and can be used on newborns up to adults.
– EASY TO USE – small applicator tip for tiny nostrils to easily remove mucus and clean nasal passageways.
– CONGESTION RELIEF – non-medicated relief for stubborn boogies and stuffy noses while also moisturizing nasal passages.
– 2-IN-1 SPRAY OR DROP APPLICATION – Spout works both for spritz relief in spray form, and when turned upside down can be used in drop form.